Back to all posts
Posted on
Plans for students working at home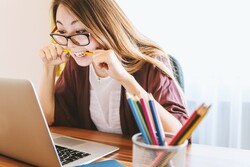 Dear Spring Glen Parents / Guardians,
We would like to give you information about how your student's education will look going forward.  At this point, the teachers have decided that the most effective way is to work with your student using Google Classroom.  Through your student's email they have been invited to join their teacher's Google Classrooms.  Your student will need to go online using any device and log into their email and accept this invitation. If your student does not remember their user name and password, please contact the school and we will be happy to remind them.
Using google classroom, teachers will be able to communicate, provide resources, assignments, videos and more.  Students will similarly be able to communicate, ask questions, and submit assignments using this platform.  You as parents/guardians will also be able to receive reports as to how they are doing through your email.   
Our teachers are excited to start interacting with their students once again and will work hard to ensure they are successful in their education moving forward.  Thank you so much for your patience and understanding as we work through this new approach to education.  If you have any questions, please feel free to call us at the school or contact a teacher directly via email.
Sincerely,
Jamie Barfuss
Contact Us.
Spring Glen Jr. High – (403) 626-3616
Mrs. Demes – april.demes@westwind.ab.ca
Mr. Barfuss – jamie.barfuss@westwind.ab.ca
Mrs. Beazer – vada.beazer@westwind.ab.ca
Ms. Meyer – jen.meyer@westwind.ab.ca
Mr. Selk – ken.selk@westwind.ab.ca
Mr. Scott – dj.scott@westwind.ab.ca