Back to all posts
Posted on
First week letter from Mr. Barfuss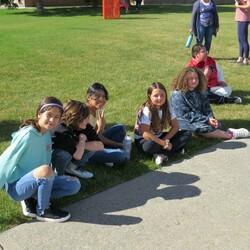 September 2, 2022
Dear Spring Glen Junior High families,
Our year is off to a great start! Welcome to all of our new and returning students. I really appreciate seeing all of you so excited to be together for learning.
Please join us for a "Welcome Back Breakfast" of pancakes and sausage on Friday, September 9 from 7:45 to 8:45 a.m. This will be immediately followed by Student Council election speeches and voting. This is a great time to meet our staff and the other families in our school community. We strongly encourage you to attend if at all possible.
Our English Language Arts teachers are already getting everyone organized into our literacy program. We are excited to see each student make meaningful gains in skills and confidence. Please make attendance a priority to ensure your student gets the most out of the program. Watch for more information on this as the year continues.  
We will be continuing our focus on good manners this year, as part of our citizenship efforts. Watch for weekly updates on the website and Facebook beginning next week.
We are encouraging students to bring their own cash or debit cards to pay for items in the canteen (the Panther Pit).  We will not be providing tabs or "credits" any longer. We will continue to take prepayments for hot lunches via cheque, cash, Interac, or e-transfer. If you have questions please contact Mrs. Demes in the office.
Along with that, I have had many questions about allowing students to leave school grounds during lunch hour, mostly because we have a new store and restaurant opening across the street. We have decided to allow students to visit either store in Hill Spring during the lunch hour if they have a signed form on file at the school. We will have these forms ready for students to take home on Tuesday.
A reminder with the hot weather we have been having: our school dress code (which applies equally to all students) requires midriffs, back, and shoulders to be covered.  Shorts need to be at least mid-thigh length.
The other policy I would like to restate is our cell phone policy. Students are not to use personal devices during class time unless they have specific permission from the teacher of that class to have them out. Students who ignore this policy risk having their devices taken away for the day. Know that expecting your child to respond to a call or text immediately during school hours may contribute to them getting in trouble. You are welcome to call the office if it is urgent that you contact your student.
I am looking forward to a great year with our 2022-2023 Panthers. Have a great long weekend!
Mr. Jamie Barfuss
Principal