Back to all posts
Posted on
Hope Squad retreat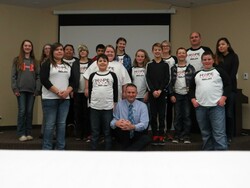 Spring Glen Junior High's newly established Hope Squad spent Friday February 1 in training and activities. Mr. Austin Nunn joined us and helped us learn more about positive mental health.
Hope Squads are established in schools all over North America to promote positive mental health, foster communication for high risk youth, and prevent suicide. 
Watch for more Hope Squad events for the whole school the first week of March.
Hope Squad retreat