Back to all posts
Posted on
Manners Matter: Be a Good Passenger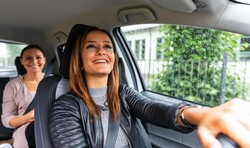 This week's manner* is to 'Be a Good Passenger" - saying Hello and Thank you and making polite conversation with the driver are all ways to show your appreciation for the ride you are getting!
Even if it's a family member, they have taken time out of their day to get you where you need to be. It's easy to use your cell phone as a way to escape from an uncomfortable interaction, but it's not polite or gracious. 
*From Brooke Romney's "52 Modern Manners for Teens". We are featuring one manner per week from this book at school.