Back to all posts
Posted on
Manners matter: Use Restaurant Manners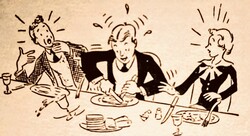 Being kind and treating those serving you with respect is a sign of good character! 
Use please and thank you, speak clearly, and ask polite questions if menu items are unfamiliar. Leave your table tidy and be mindful of the experience of other people eating in the restaurant. 
*From Brooke Romney's "52 Modern Manners for Teens". We are featuring one manner per week from this book at school.