Back to all posts
Posted on
Remembrance Cranes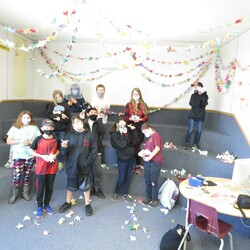 Why are Spring Glen Junior High students folding paper cranes this November?
While talking about Orange Shirt Day and residential schools back in September, we learned that some Japanese Canadians have become staunch allies of residential school survivors. Japan and Canada were on opposite sides in World War II. There was a lot of suspicion that Japanese Canadians would be more loyal to Japan than to Canada, even though many of them had been here for generations. The Canadian government forced Japanese Canadians to live in internment camps and sold many of their homes and businesses.
So today, when Japanese Canadians hear about residential schools, they feel empathy for First Nations people: they also have a history of unjust policies hurting their families and targeting their culture. Some have revived the old Japanese tradition of making origami paper cranes as symbols of prayers and hope for residential school survivors. 
We talked about the story of Sadako, the young girl who died from leukemia as a result of exposure to the nuclear weapons dropped on Japan near the end of World War II. She tried to make 1000 paper cranes so her wish for health would be granted. She, and her paper cranes, have become symbols for peace and the end of war. 
We decided that as a school we would try to make 1000 paper cranes between Truth and Reconciliation Day (September 30) and Remembrance Day (November 11), with the dual purpose of honoring residential school fatalities and survivors, and honoring those who have sacrificed for peace and freedom in many wars.
Our final count at noon today was 1091 paper cranes! We did it! According to tradition, that means our wish will be granted: that all can learn from and respect the past while moving forward with hope into the future.  
--Mrs. Demes